The 20 Largest Solar Power Plants in the World
Solar power is rapidly becoming a star in the field of renewable energy around the world. In the United States, solar generation is projected to climb from 11% of total renewable energy generation in 2017 to 48% by 2050, making it the fastest-growing source of electricity. What percentage of electricity is generated by solar power worldwide? In 2019, approximately 2% of the world's energy was generated by solar power, but that portion is increasing exponentially each year. This global solar energy movement is supported by the incredible, expansive solar farms that are being built around the globe. This SolarPower.Guide infographic explores the largest solar power plants in the world based on solar energy capacity:
Click the below image to view full-size.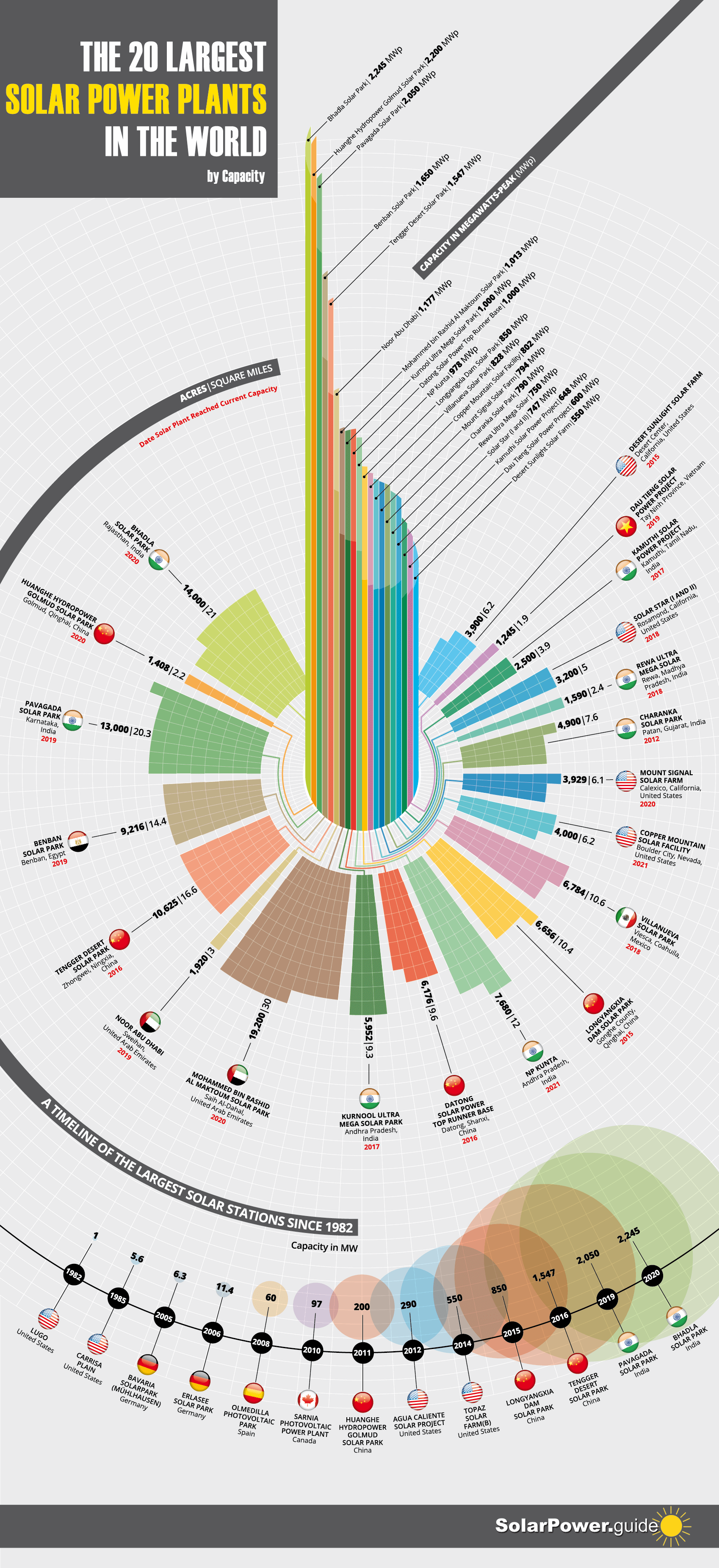 Simply copy and paste the code from the box below to share.
What Is a Solar Thermal Power Plant?
A solar thermal power plant is an electric generation system that collects and concentrates sunlight to produce heat that is then used to create electricity. All solar thermal power systems are made with two primary components: reflectors (or mirrors) that catch and focus sunlight and a receiver. Most solar thermal energy power systems use a heat-transfer fluid that is heated and circulated within the receiver to produce steam. This steam is converted into mechanical energy in a turbine, which in turn cranks a generator that produces electricity. The solar thermal power systems are equipped with a tracking capability that follows the sun as it changes position in the sky, ensuring that the sunlight stays focused on the receiver. There are three main types of solar thermal power systems: linear concentrating systems, solar power towers, and solar dish/engine systems. A solar thermal power plant may also be referred to as a solar photovoltaic power plant.
So if you are ever asked to define a solar power plant, the gist of it is that solar panels collect sunlight, concentrate its heat, and turn that into electricity through steam power.
What Is the World's Largest Solar Power Plant?
The largest solar power plant in the world is the Bhadla Solar Park, which was completed in 2020. This solar thermal power plant is located in Bhadla in the Jodhpur district of Rajasthan, India. The Bhadla Solar Park is a 2.25GW solar photovoltaic power plant and the largest solar farm in the world, encompassing nearly 14,000 acres of land. The construction of Bhadla Solar Park cost an estimated $1.4 billion (98.5 billion Indian rupees). What are some Bhadla Solar Park benefits? Solar infrastructure projects such as the Bhadla Solar Park help reduce India's dependence on imported fossil fuels. In rural areas, solar power provides a much more healthy, safe source of indoor lighting than kerosene. Additionally, solar power plants like the Bhadla Solar Park drive economic growth and job creation in surrounding areas. The renewable energy jobs sector is rapidly developing around the world; in 2020, the growth rate of the world's renewable energy capacity jumped 45%. Solar power installations increased 23%.
The region where the Badla Solar Park was constructed is known for its solar-friendly high temperatures and sunny days; in fact, much of India enjoys around 300 sunny days per year, making it an ideal place for solar power plants. Solar power in India is rapidly developing, with many solar photovoltaic power plants being built across the country. As of March 2021, the installed capacity of solar power plants in India was 40 GW, but the National Institute of Solar Energy has assessed that the country's solar potential is about 748 gigawatts! The National Solar Mission (a major initiative launched by the government of India with active participation from the U.S.) has set a goal of reaching 100 GW of installed solar thermal power plant capacity by 2022.
What Are the Largest Solar Farms in the World?
The top twenty biggest solar plants in the world are as follows, ranked by solar energy capacity:
Bhadla Solar Park (Rajasthan, India) — 2,245 MW
Huanghe Hydropower Golmud Solar Park (Golmud, Qinghai, China) — 2,200 MW
Pavagada Solar Park (Karnataka, India) — 2,050 MW
Benban Solar Park (Benban, Egypt) — 1,650 MW
Tengger Desert Solar Park (Zhongwei, Ningxia, China) — 1,547 MW
Noor Abu Dhabi (Sweihan, United Arab Emirates) — 1,177 MW
Mohammed bin Rashid Al Maktoum Solar Park (Saih Al-Dahal, United Arab Emirates) — 1,013 MW
Kurnool Ultra Mega Solar Park (Andhra Pradesh, India) — 1,000 MW
Datong Solar Power Top Runner Base (Datong City, China) — 1,000 MW
NP Kunta (Andhra Pradesh, India) — 978 MW
Longyangxia Dam Solar Park (Gonghe County, Qinghai, China) — 850 MW
Villanueva Solar Park (Viesca, Coahuila, Mexico) — 828 MW
Copper Mountain Solar Facility (Boulder City, Nevada, United States) — 802 MW
Mount Signal Solar Farm (Calexico, California, United States) — 794 MW
Charanka Solar Park (Patan, Gujarat, India) — 790 MW
Rewa Ultra Mega Solar (Rewa, Madhya Pradesh, India) — 750 MW
Solar Star (I and II) (Rosamond, California, United States) — 747 MW
Kamuthi Solar Power Project (Kamuthi, Tamil Nadu, India) — 648 MW
Dau Tieng Solar Power Project (Tay Ninh Province, Vietnam) — 600 MW
Desert Sunlight Solar Farm (Desert Center, California, United States) — 550 MW
Of course, size isn't everything. The best solar power plant in the world is one that provides electricity to those in need while preserving the planet and reducing a country's reliance on fossil fuels. With solar power initiatives gaining momentum worldwide, it is clear as day that solar power is the future. If you are interested in joining the solar power movement, check out the rebates and incentives available in the United States.
What Country Has the Most Solar Power?
Here are the top five countries that had the most solar power capacity as of 2019:
China — 254,355 MW
European Union — 152,917 MW
United States — 75,572 MW
Japan — 67,000 MW
Germany — 53,783 MW
Of course, these numbers are influenced by the size and population of each country. To provide a more accurate perspective of countries that use the most solar energy, here are the top five countries with the most solar power capacity per capita:
Australia — 637 W per capita
Germany — 593 W per capita
Japan — 498 W per capita
Netherlands — 396 W per capita
Belgium — 394 W per capita
What Are the Countries With the Most Solar Potential?
One of the best ways to advocate for solar energy is to compare the most water-stressed countries with their solar potential, since power generation from solar photovoltaic power plants requires minimal water use. Here are the top five water-stressed countries that could harness the most solar energy based on solar irradiance (watts per square meter):
Yemen — 267.5 GHI-W/m2
Eritrea — 265.6 GHI-W/m2
Saudi Arabia — 252.9 GHI-W/m2
Oman — 249 GHI-W/m2
Libya — 246.4 GHI-W/m2
A Timeline of the Largest Solar Stations
Here is a timeline of the biggest solar power plants since 1982, by solar energy capacity in megawatts:
1982: Lugo (United States) — 1 MW
1985: Carrisa Plain (United States) — 5.6 MW
2005: Bavaria Solarpark (Mühlhausen) (Germany) — 6.3 MW
2006: Erlasee Solar Park (Germany) — 11.4 MW
2008: Olmedilla Photovoltaic Park (Spain) — 60 MW
2010: Sarnia Photovoltaic Power Plant (Canada) — 97 MW
2011: Huanghe Hydropower Golmud Solar Park (China) — 200 MW
2012: Agua Caliente Solar Project (United States) — 290 MW
2014: Topaz Solar Farm (United States) — 550 MW
2015: Longyangxia Dam Solar Park (China) — 850 MW
2016: Tengger Desert Solar Park (China) — 1,547 MW
2019: Pavagada Solar Park (India) — 2,050 MW
2020: Bhadla Solar Park (India) — 2,245 MW
All data for this project was sourced from Wikipedia. Created by Solar Power Guide.